---
Don't miss other softwares such as :


Winctrl Disable task switching and other system functions accessed through key combinations
such as CTRL+ESC and CTRL+ATL+DEL on Win32 Platforms. (Freeware)


Wtask in French
WTASK
WTask allows to hide the Task bar of windows.
Free Software.
WTask allows to hide the Task bar of windows.
This option not present from Control Panel may be useful in some cases.
By hiding this Task Bar, you no longer have access to the small icons in the Tray zone neither to applications lodging in the Task bar, neither even to the Start menu if you have no keyboard dedicated.
I have thought that that could be useful in some cases and notably during of usage of the computer by children that no longer have thus access by too easily to software reduced in Task Bar.
Some bonus are included in the software by right click on buttons.
Please send all comments, bug reports, etc. to
me at Frederic_jezegou@csi.com All feedback is greatly appreciated.

Want Wtask in you own language?


I Can if you send me translation of Wtask include your own language!

Just downoad the full version, and next if available files in an other langage such as program and Help

Wtask is ready for English (I know my English is poor so if you want to translate better then me, help will be appreciate, But Also Spanish soon (Thanks to Gustavo SYLVA) , German, Italian, Danish : As Wtask is free i can't pay for it , but it will be a pleasure to include your name in these versions






WTASK is freely distributable, WTASK is free software Price : 00 $, no limit

: Windows 95 - Windows 98 -Windows NT - File name:

wtask.exe - Size :1060 Ko - Langages : English and French - Author : Frédéric Jézégou -




FAQ :

In WTASK is there a way of making the task bar reappear without restarting the program?
You may not close the software, through key combinations ALT TAB you have the way making the task bar reappear (Show Task bar), If you close the software, you must restarsting the program.


Before installing this new version remove the old one (Add/remove from control Panel)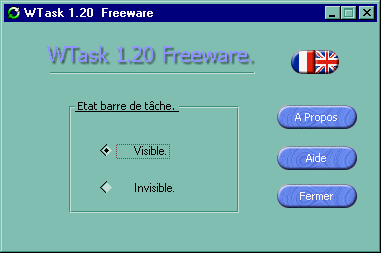 Screen capture of WTask
| | | |
| --- | --- | --- |
| | Version | Description |
| 1060Ko | 1.10 | Version 1.10 21/01/2000 . WTask allows to hide the Task bar of windows. You can delete this software by control panel (Add/remove Wtask) |